Oaktree Assessment Tool
Our Oaktree assessment tool (OAT) can help you decide whether to seek diagnosis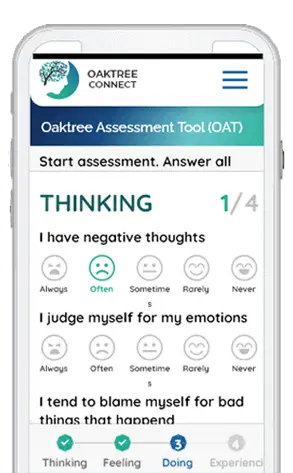 and medical treatment from a Psychiatrist online, to seek talking therapy, or if self-help may suffice. It is not a diagnostic test.
Contact Us
To book an online mental health assessment appointment with Private Psychiatrists, Private Psychologists and Private Therapists
We aim to respond within one working day
Your Circle of Trusted Mental Health Care
Make Oaktree Connect your personal space for mental health and wellness
One of the most confusing things to do when looking for help with your mental health needs is what kind of professional to consult with. We recommend that as private psychiatrists are trained in making mental health assessments, diagnoses, prescribing medication and understanding of the talking therapies most suited for various disorders, they ought to carry out a thorough private assessment of your mental health related struggles, initially. This would enable them to recommend medication, talking therapies, TMS or any other form of care and treatment that may be appropriate for your full recovery.
In case your issues are more psychological, for example grief, work related stress, difficulty in adjusting to new place of work etc. and not mental disorders such as depression, psychosis, OCD, then seeing a psychologist or therapists may be enough.
Psychiatrists are medical doctors who assess, diagnose, and treat mental health conditions which include medication, physical treatments and other therapies
Highly trained mental health professionals who have PhDs in Psychology and offer a wide range of talking therapies and treatments

Highly skilled private mental health care professionals with years of experience providing therapies like Cognitive Behavioural Therapy (CBT)
Assistance with self-help psychological therapies that can be done at your own pace, in person and online for issues like stress, anxiety, and depression
Our Mental Health Assessment, Diagnosis and Treatment Process
Here to provide support from psychiatrists, psychologists, and therapists in England. Start your wellness journey with Oaktree Connect here.
Assessment
Diagnosis
Investigations
Treatment
Referral
Ongoing Care
Assessment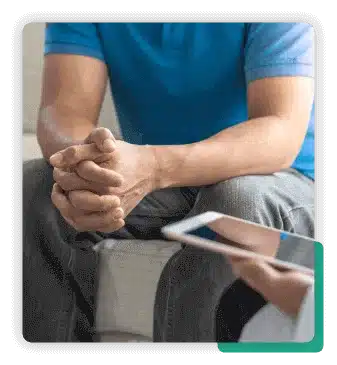 Assessment
One of our psychiatrists will conduct a comprehensive mental health assessment online using the latest evidence-based practice. Psychiatrists may ask questions about the following: issues you have been experiencing, their frequency, and home and school/ work life. Individuals below 16 years of age will need a parent or carer present during part of the appointment.
Diagnosis
Investigations
Treatment
Referral
Ongoing Care
Refer your Client With Confidence
We can offer private mental health assessments, opinions, occupational and medicolegal reports
We have psychiatrists and psychologists available online who have expertise in assessment for occupational and medicolegal reports in England.
Here, you, as a GP, can also make referrals for your patients who may ask to see private mental health professionals online to expedite diagnosis and treatment.

Simple referral process

Instant access to expert opinion and mental health care

Free portal to track your referrals
Access a range of England based private mental health care services through our online digital platform
See your doctor right away. Get your diagnosis or private mental health assessment on our portal and app
Get all your lab testing done with us and view the results on our secure portal online
Get access to imaging across England and view your reports on our secure portal
Diagnostic Tests & Mental Health Assessments
Get your ECG, EEG tests done near you. Access tests and assessments for sleep problems with us
Access your prescription online. Get your medication delivered to your doorstep by next day delivery
Receive Transcranial Magnetic Stimulation (TMS), ECT, EMDR in your local area
Receive your therapy, counselling, coaching & mentoring from our expert private therapists online
Get all your mental health care resources and tools with Oaktree Connect to monitor and manage your emotional and physical health
Access your private mental health care team at Oaktree Connect and get easy access to heart and lung doctors, brain doctors and dietitians
Blogs


For the latest insights into mental health, looking after your mind, and how to manage common issues, take a look at our educational blog posts here.
Accreditations, Memberships & Sponsorships


We are affiliated with the professional organisations listed below.