Training for Employers and Employees
Mental illness is highly prevalent with 1 in 4 people suffering from it in their lifetime. It is therefore vital to recognise the signs early, especially for the managers in an organisation. Enabling you assisting the employees early, improving the working environment and avoiding long sickness absences.
Mental health awareness is also important as it is crucial to understand the common signs & symptoms of mental health conditions in the workplace.
Mental Health Awareness Training for Managers
Prevention is better than cure. Analysis from 'Mental health and employers: the case for refreshing investment' shows that higher return on investment can be achieved by early interventions, such as organisation-wide culture change and education, than more in-depth support that may be needed at a later stage when a person is struggling. We have designed this course keeping the above in mind.
Electronic Webinar Format
Our workshops stand out because:
Oaktree Assessment Tool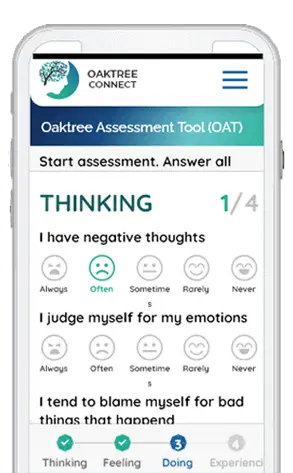 Our Oaktree assessment tool (OAT) can help you decide whether to seek diagnosis and medical treatment from a Psychiatrist online, to seek talking therapy, or if self-help may suffice. It is not a diagnostic test.
Contact Us
To book an online mental health assessment appointment with Private Psychiatrists, Private Psychologists and Private Therapists
We aim to respond within one working day