Oaktree Connect, here to help adults through challenges in day-to-day life
General adult psychiatry in the UK is a medical specialty that focuses on the diagnosis, treatment, and management of mental health disorders in adults from 18- 65 years of age. Psychiatrists who specialise in general adult psychiatry work with patients who have a wide range of mental health conditions, including depression, anxiety, bipolar disorder, schizophrenia, and personality disorders. They use a variety of treatments, including medication, psychotherapy, and other forms of psychological intervention, to help patients manage their symptoms and improve their quality of life. General adult psychiatrists may work in a variety of settings, including hospitals, clinics, and private practices.
This is the largest group of people who present to mental health services for various reasons explained below:
Firstly, this age range encompasses the majority of adulthood, which is a time of significant life changes and stressors, such as starting a career, forming relationships, and raising a family. These stressors can trigger or exacerbate mental health disorders, making them more likely to present during this period.
Secondly, the brain continues to develop and mature until around age 25, and many mental health disorders are thought to be related to disruptions in brain development. Therefore, young adults may be more vulnerable to developing mental health disorders during this time.
Thirdly, older adults may be less likely to seek treatment for mental health issues due to stigma, lack of access to care, or other factors. This may lead to an underrepresentation of mental health disorders in this age group.
Care during these years is crucial to maintain personal, social and financial functioning and quality of life of the individual and their family. Oaktree Connect are here to offer a variety of assessments, treatments and support for adults. All of our general adult practitioners have years of experience working in the NHS and in the private sector.
Mental Health Statistics: MHFA England
Access to the NHS services is difficult with long waiting lists due to shortage of psychiatrists, psychologists and other resources. We endeavour to see you as soon as possible to provide the care you need. Our private psychiatrists have years of expertise in conducting comprehensive mental health assessments online and providing treatment for a wide range of disorders including ADHD, Depression, eating disorders, Anxiety disorders, Psychosis and more.
We are also able to provide second opinions over previous diagnoses and treatment, as most of our General Adult psychiatrists are senior clinicians.
Prevalence of Mental Disorders in the UK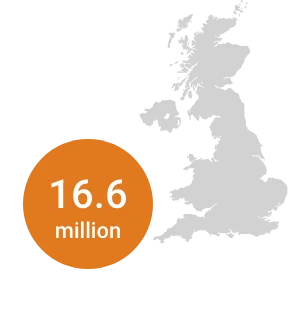 16.6 million people are affected by mental health issues in the UK.
Prevalence of Mental Disorders in the World
1 in 4 people experience serious mental disorders each year worldwide.
Scarcity of Service Provision for Mental Disorders
Only 1 in 8 adults with a mental health problem are currently getting any kind of treatment.
General adult psychiatrists are trained to assess, diagnose and treat disorders common in people of a working age.
You can choose a date and time that suits you best with no need to wait for your assessment by an expert psychiatrist.
If you feel that attending the appointment with a family member or friend or a carer would be beneficial then you are most welcome to do so. Our psychiatrists may like to speak to a family member or close friend during an assessment to get another perspective and an objective view of the issues to reach a diagnosis.
Do I need support from a psychiatrist?
If struggling with mental health related issues, you may want to seek advice from your GP or social care provider about whether you will benefit from seeing a mental health professional. Typically, they should be able to give you an indication of the support you may require.
You can also take our OAT assessment for advice about which professional would be most relevant for your requirement and can help match you to a specific clinician in Oaktree Connect.
If you are still unsure about which clinician would be most suitable to book an appointment with, do not hesitate to contact us for more information.
Oaktree Connect Treatment Process
We believe in a multi-disciplinary approach to mental health care so we have a team of psychiatrists, psychologists and therapists to ensure that you receive a more wholesome treatment and ongoing care, tailored to your specific needs.
At Oaktree Connect, you will have a comprehensive online mental health assessment with a psychiatrist, where they will be able to make a diagnosis or get to the root of the issues you have experienced. If diagnosis of a disorder is made, they will recommend a treatment plan.
Assessment
Diagnosis
Investigations
Treatment
Referral
Ongoing Care
Assessment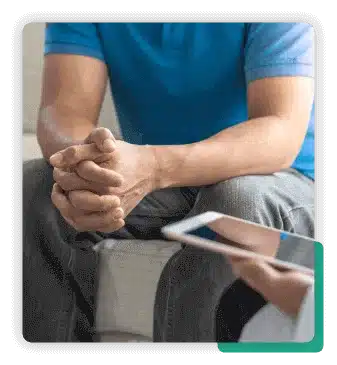 Assessment
During the first appointment with your psychiatrist, they will carry out an initial assessment. They will consider both your psychological and physical health and will likely ask about the following: 
The concern that you brought to see them

Your childhood and experiences growing up

Your thoughts, emotions, and behaviours

Your current and prior physical health history, including any previous or existing medications or procedures
Diagnosis
Investigations
Treatment
Referral
Ongoing Care
At Oaktree Connect, we offer a wide range of psychiatric assessments online and treatments for several disorders. See below for information about specific disorders and their assessments.​​
Some of the disorders our clinicians are trained to assess in adults are depression, anxiety, and ADHD. These are likely to present during adulthood but often present in childhood or adolescence.Our experienced general adult mental health team will help if you or a loved one is suffering from one or more of the following disorders.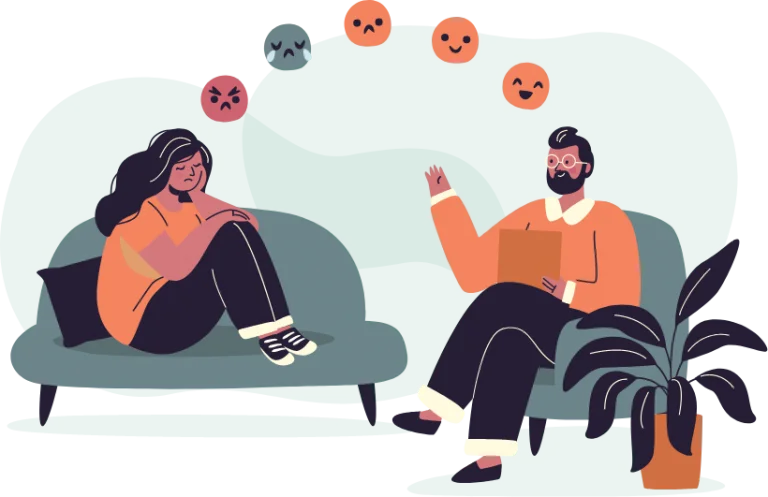 The disorders listed below are not an exhaustive list that our clinicians are able to assess and treat. If what you are looking for is not shown above, contact us and we will respond to your enquiry within one working day.
Our psychologists also provide treatment for psychological issues common in young people, such as anger issues, and Oppositional Defiant Disorder, for instance.