The Oaktree Clinic in partnership with The London Psychiatry Centre is now able to offer rTMS treatment at our Edgbaston clinic. On Thursday 22nd September The Oaktree Clinic's Psychiatrists started their intensive training session under the watchful and highly-skilled supervision of Dr Andy Zamar from TLPC, Harley Street, London.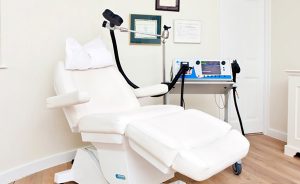 The Oaktree Clinic is the only service that can offer this ground breaking, innovative, side effect and pain free treatment in the West Midlands. It works by producing a strong magnetic field near the area of the brain responsible for the symptoms of depression, hence stimulating the brain cells. The client is wide awake during administration as anaesthesia is not required to undergo this treatment. It is a highly effective treatment for those who either do not respond to conventional treatment or cannot take or do not wish to take antidepressant medication or psychotherapy.
Whilst being a well used intervention in Canada, Australia, New Zealand, the European Union, Israel and the United States, the UK has now started to embrace rTMS. The treatment has recently been recommended by the National Institute for Health and Care Excellence (NICE) for treatment of depression.
At the London Psychiatry Centre the results from rTMS are very impressive with 74.2% of women and 58% of men recovering from the symptoms of depression in 4.3 weeks of treatment. With the same treatment protocols and supervision we are confident of success of this treatment at The Oaktree Clinic.
We are currently taking referrals and carry out assessments and the treatment. If you believe that rTMS is the treatment for you, please contact us and arrange a consultation.