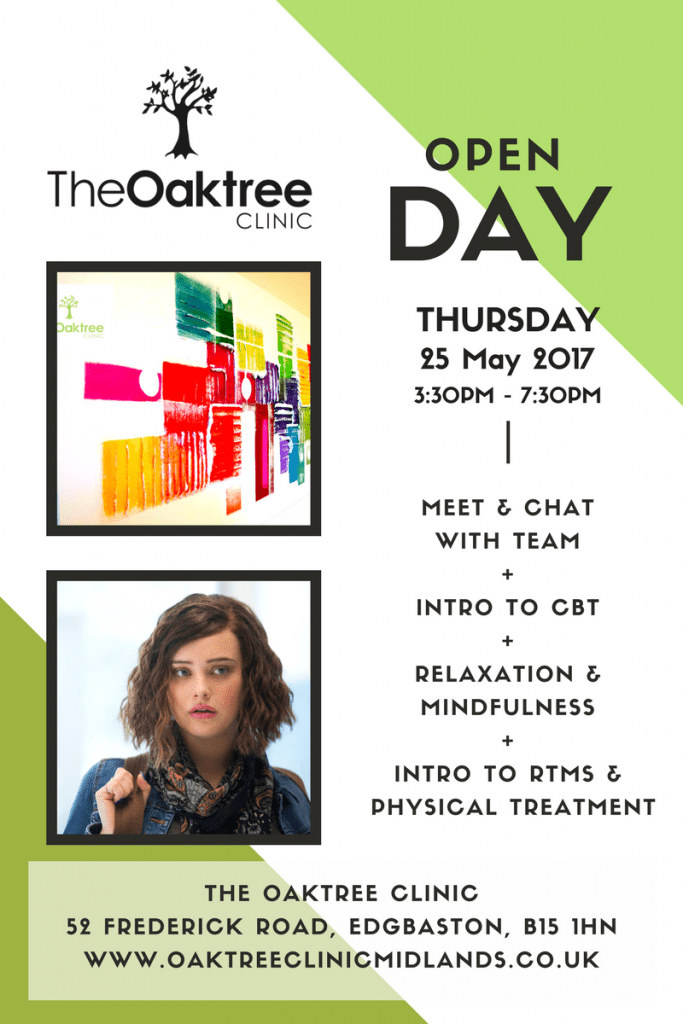 The Oaktree Clinic are proud to announce that we are planning an Open Day.
So on Thursday 25th May at 4:30pm The Oaktree Clinic is opening our doors to the public so we can help de-stigmatise the image of mental health in the community.
There will be drinks, refreshments and a whole load of knowledge that our mental health professionals will impart to those that attend.
The open day will feature the following sessions:
Quick Clinic

Overseen by Dr Singh, these sessions will give a chance to ask psychiatrists questions about cases, for advice, about psychiatry, about medicine or the brain. Basically it's a psychiatry drop-in session! For those that feel they might need help, or those with a burning question about the mind.
Basic Intro to CBT

One of the most common forms of psychological treatment at the moment is Cognitive Behavioural Therapy or CBT. Here there will be explanations of what it is, how it works, what an initial session would consist of (the condensed version) and a patient example. As well as a Q&A.
rTMS

A revolutionary method for treating depression, anxiety and most other neuro-psychiatric issues, rTMS is currently not widely known in the UK. Here our trained professionals will explain about the treatment, how it works, the practicalities of the treatment, even how it feels! Then there's also the science part – scans, the brain, and the relationship between psychiatry and neurology. Get completely clued up on this wonderful new treatment.
Tours

You may have seen The Oaktree Clinic from the outside, but now you can be guided around and see the causal warmth and unique decor of the interworking of Oaktree yourself.
Relaxation

The world is an increasingly stressful place… sometimes you need to take some time to relax and unwind. Experience some relaxation techniques such as muscle relaxation, visualisation and breathing relaxation.
Emotional Regulation

Life, as a great man once sang, is a rollercoaster. In our Emotional Regulation session we will give you the opportunity to learn some techniques for managing emotions in daily life.
The open day is from 4:30pm-7pm on Thursday 25th May at The Oaktree Clinic in Edgbaston. Hopefully we will see you then.